5 Bullet Friday...Holding Off Offers are Back in Full Swing
We saw numbers shift quite a bit this week with sales almost doubling from last week, and new listings actually pulling back slightly. Despite that happening, the % of multiple offers decreased significantly. Take a peak at the numbers.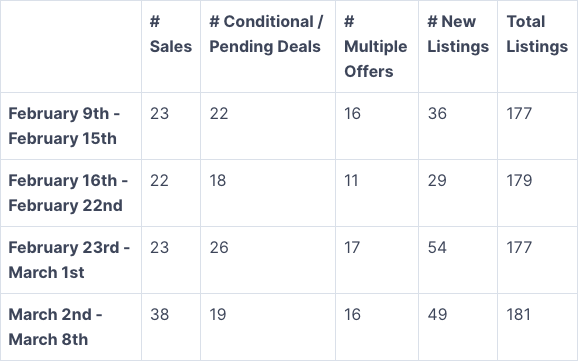 Here are my 5 takeaways this week:
📉Multiple offers over the last 4 weeks look like this:
Feb 9th-15th = 65%
Feb 16th -22nd = 50%
Feb 23rd - March 1st = 73%
March 2nd - March 8th = 40%
The drop we saw this week seems pretty significant, especially in light of sales actually increasing pretty significantly (from low 20's to high 30's this week). The fewer deals selling in multiple offers could be a sign that buyers are being more selective, or that they are just tired of being in bidding wars. As I type this, I am getting multiple notifications from showings I've done this week that there are more and more offers being registered as they prepare for offer dates, so perhaps it was one bad week of numbers. Only time will tell.
📈"There is no inventory in the market"; if we talk to every agent and buyer, that seems to be the sentiment for the market activity. I went and checked out the numbers from last year this time and was shocked to see how we measured up. Last year this time of the year, we had less than 90 homes for sale; comparing that with the 181 this week, we are literally double the inventory than 12 months ago. A lot of 'TikTok agents' are telling you to buy now before the market explodes again, but we have to understand we are in a market fuelled by supply and demand. Sure, demand is low (I've been saying for a long time that we need to be close to 300+ listings to see a shift in buyers attitudes); but realize that part of what we are seeing is the slow product that comes with a winter market.
💰Seller strategy is back in full swing of holding off offers and encouraging bully offers. This is bringing us back to the market that we saw in 2020 and 2021. As much as buyers are saying they hate to be involved in bidding wars, the prices for homes that are getting the bidding wars are at a premium versus what they likely would have gotten for pricing at the 'right price'. We have talked about it before, but when homes are priced at the 'right price', buyers will often question why no one else is writing an offer, and will avoid jumping on it themselves. They say they don't want to see a market with bidding wars, but their actions show us otherwise.
🏡I often like to think of the 'average house' in Sudbury being a 1000sqft semi-updated New Sudbury bungalow. Our average prices can vary month to month; we saw 500's and then down to the high 300's, and we have been trending in the low 400's lately. But it's the cost of that New Sudbury brick bungalow that shows us where the market is moving best of all. I think as of now we are seeing that brick-bunglow get back to approaching 450k for value. What that means is that we have seen the bottom on prices dropping, and we will likely see the market shift to that average sale price of mid-400's as we get further into this year. So throw out the monthly data on where prices are trending and follow the price of what the average New Sudbury home is selling for, and I think we are seeing that settle into a nice area of value.
🤔Last reflection is where does the market go from here…. I think to expand on the last point of the average home being the New Sudbury Bungalow and that house being worth the mid-400's; that's the new reality, and one that is here to stay. I don't think we see a pull back in prices (unless inventory goes insane); at the same time I think we aren't going to see mass increases any time soon. Buyers are still cautious on the sidelines and just beginning to have confidence the Bank of Canada isn't going to raise rates again (they probably will, although it will be minimal). We are wrapping our heads around the new-normal, and it will take a few years for prices to shift off these values. That's a bold prediction, but one I think has some merit and value to it. Don't buy Sudbury Real Estate if you are buying for short-term appreciation, but 10-year plus I am very bullish and optimistic on Sudbury!
That's just my 2 cents, not sure if you agree or disagree, but love to hear from you either way. Thanks for tuning in Sudbury, let's chat next week!
Selling Your Home?
Get your home's value - our custom reports include accurate and up to date information.
Get Home Value