5 Bullet Friday...Things are Picking Up! 🙌
Welcome back Sudbury! 👋
Take a peak at the numbers from the last few weeks!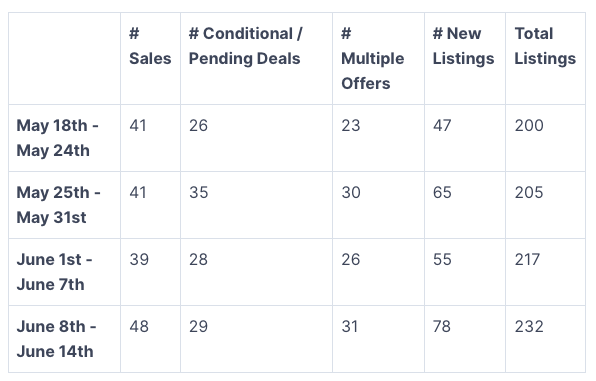 Here are my 5 takeaways this week:
📊We've seen a significant increase in listings in just a few weeks, going from 154 at the end of April to over 230 now. While the market is still busy, we're noticing more listings and fewer sales, which has brought some calmness to the market. Interestingly, the numbers are similar to last year's trends during the second week of June, with 237 total listings, 54 sales, and 88 new homes hitting the market. It's almost identical to what we're experiencing this year.
🏡Finding a great step-up home has become quite challenging. Most homes that are selling fall into two categories: entry-level homes for first-time buyers and luxurious lakefront properties. The market lacks good options for those looking to upgrade their homes. One reason for this scarcity is that many people are hesitant to buy larger homes due to the rising costs of living. While there are a few dream waterfront homes available, most people are concerned about their expenses and strive to keep their living costs low.
💳Consumer debt is a major concern. Everything seems to be getting more expensive, and people are maintaining their usual lifestyles despite the rising costs of groceries, debt, and other necessities. My fear is that many individuals are relying on credit cards and lines of credit to finance their lifestyles. Eventually, they'll reach their debt limits and be forced to cut back on spending. This could lead to a prolonged economic slowdown.
💰On a different note, we've had an impressive week for million-dollar sales in Sudbury. Four properties sold for over $1 million in the past seven days, with three of them being waterfront properties. The highest sale was just a few dollars shy of $2 million! These high-end sales have contributed to the increase in our average sale price, which has been rising significantly in recent months. You can check the MLS Home Price Index for more information on pricing trends. Here is a quick snapshot of our pricing run up during the peak of zero-interest rate COVID pricing and our bounce back we have seen since. These are lagging data points but still interesting to note the rebound in sales prices this year over last.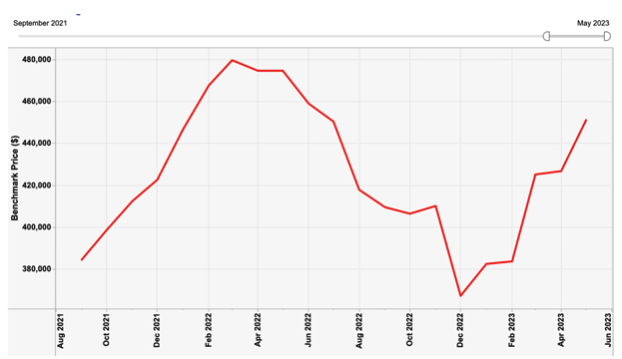 🤔Where does the market go from here? I believe we'll continue to see an increase in the number of homes for sale. Seasonal patterns align with our historical charts. The bigger question is whether we'll surpass the high 200s mark and enter uncharted territory with over 300 homes for sale. I've been saying for a while that our prices are high due to the limited supply of homes compared to demand. With the return to seasonal numbers, prices may soften if demand doesn't keep up with the increased supply. It's likely that prices will level off and we'll see fewer bidding wars during the summer months.
Those are my thoughts on the market this week. Thanks for tuning in Sudbury, we'll chat next week!
Selling Your Home?
Get your home's value - our custom reports include accurate and up to date information.
Get Home Value