Weekly Wrap Up...Where will the Market Go From Here?
It was a busy week in Sudbury! We hit our 100th COVID case in the North; with school back and life continuing to some version of normal. The City of Greater Sudbury successfully defends heir Kingsway Entertainment District in court at the Local Planning Appeal Tribunal (LPAT) level. And chaos ensued for parents trying to get bussing for their kids for those that choose to send them back to school (we have personally been on the hold with the school bus consortium for 6 hours now and have 5 emails that haven't been responded to).
From a real estate market perspective, it turns out that it was a very average week in the post-COVID market place. Sales were slightly higher than the average, conditional deals were exactly on par with the average, and so were multiple offers; and we were down 2 new listings off of our weekly average, take a peek for yourself.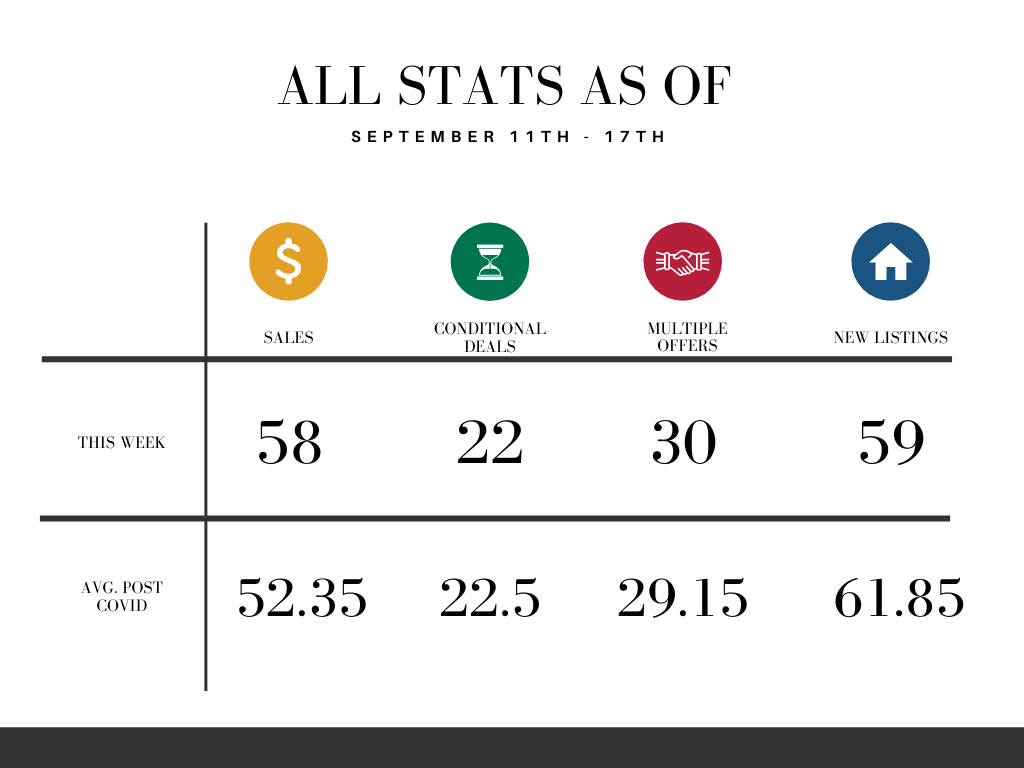 When I ran this week's stats I compared them to the average stats we have seen post-COVID and surprisingly the stats are coming back EXTREMELY average. I keep talking about a slowing market, and clearly the real estate market (especially in Sudbury) has seasonality to it; but perhaps when I feel like the market is cooling, it's compared to the extremes we saw with the sharp increases as people were able to get out of their houses after COVID and start their search. When I compare to the average stats, we just may be in the new normal world with regards to market activity.
If we are in the average territory this is a good sign! It's not like there is going to be a huge decrease in listings or prices. Clearly, there will be some seasonality and things will slow down as we approach the winter and pick back up when we get to the summer; but all-in-all we are in a steady marketplace.
I also took a look at the total listings on the market today (not just new listings hitting the market) and there are 238 available homes. If we assume that no new homes came on the market and we continued to have 58 sales a week; we would run out of inventory in just over 4 weeks. This is a stat that is commonly used to predict if we are in a seller's market, a buyers market or a balanced market. A seller's market is defined with anything less than 4 months of inventory, a balanced market is 4-6 months of inventory and a buyers market is 6 months +. Clearly, with only a month and a half, we are still in a strong seller's market.
I'm working with a buyer right now that is looking for homes between 320k and 420k, basically anywhere in Sudbury. I figured this is in the heart of our market and there should be lots of options to show them. I was floored at how few homes that met a pretty standard search criterion (3+1 bedrooms min, prefer a bigger yard, some updates). It was like looking for a needle in a haystack! It seems like there are options out there but wow it can be difficult to find some places, and the price points seem to be creeping higher!
I have so many clients asking for my advice on whether or not this is a reasonable market and if things will go down or continue to go up. I wish I had a crystal ball and was able to predict the future, but sadly I'm no expert in tarot cards. Despite that, I will give a few reasons for the market to continue to increase and some reasons it could decrease (this is what weighs on my mind constantly in this market).
Case for Continued Growth/Increase Prices:
Interest rates are beyond low, basically, the banks are giving free money to encourage buyers to be buying homes and stimulating the economy. Demand still is relatively high, with people still in Work From Home (WFH) mode and truly appreciating their home space after going thru a global shutdown. We also continue to experience further demand with out-of-town buyers opting to leave a big city and experience a bit of the North, bigger yards and houses that have more bang-for-your-buck!
Cases For a Correction/Price Decrease:
Housing prices are inversely tied to interest rates, this has been great news when the government has slashed rates to what they are now, but they have nowhere to go but up in the future, making houses at that time more expensive (from a payments perspective). In addition to that, we are still in an economy where unemployment locally is still around 10% and provincially is closer to 15%. CERB is running out, and the ability to collect 2k a month for sitting at home will eventually be gone. In addition to that, stats I've heard is that 1/5th Canadians have deferred mortgage payments, with interest on their principal rising; these deferrals are coming to an end shortly and it doesn't appear that they will be extended. Are people really in houses they can't afford?
I know that the last bullet point can be kinda-scary; and I wanted to summarize this email with my overall thoughts. I do think we are seeing some homes that are selling above their true values, with buyers being swept up in a bidding frenzy and putting offers that are shocking in price. But despite the large growth we have seen in average prices (specifically over the last 20 months), I think a lot of that increase is just playing catch up to the previous few years where the price points in the market were flat. I think that Nationally, the economy will get worse before it gets better, and due to that, we may see a small pullback in some of the price points we have seen (especially with examples of some of the extreme bidding wars). But overall, we will weather the storm well in Sudbury and prices here will continue to be strong and even continue to grow (at a slower rate then we have seen in 2019/2020).
Hope you are having a great September and we'll see you next week.