5 Bullet Friday...Why Did Our Average Sale Price Go Up This Week? 🚀
We saw numbers shift quite a bit this week with sales almost doubling from last week, and new listings actually pulling back slightly. Despite that happening, the % of multiple offers decreased significantly. Take a peak at the numbers.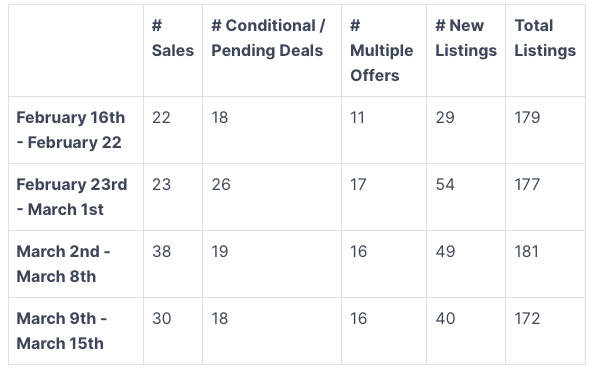 Here are my 5 takeaways this week:
⛷️1. March Break Impact on Listings
I must admit, I was in March Break mode with the kids this week, so I reached out to agents at the office to get the latest market insights. Despite many people likely taking breaks, it's notable that total listings dropped from around 180 (since early January) to 172 this week. With new listings down to 40 this week from 50+ in previous weeks, buyers are hoping to see the trend reverse soon.
💰2. Big Sales and the Growing Luxury Market
This week saw four significant waterfront sales, two over a million dollars and the other two just shy of it, raising the average sale price to $523k. The luxury market is gradually separating itself from average homes in Sudbury. However, two current listings priced over $3.5M have been on the market for quite some time, raising questions about whether buyers will eventually jump on these opportunities or if sellers will need to reprice as motivation increases.
🏡3. Different Types of Buyers
Two types of buyers are prevalent in the market right now: those who have been watching for a while and those who recently jumped in. The former group is more cautious, while the latter is more active and ready to jump on perceived good value listings. It's essential for buyers to move at a pace they're comfortable with, especially considering the market's surprising rebound.
📉4. MLS Home Index Price Drop and the Supply Driven Market
Despite the MLS Home Price Index experiencing its largest year-over-year national drop in history (15+%), the market for new listings remains strong. The lack of supply continues to drive the market, with banks enabling homeowners to stay in their homes by extending their debt amortization. Bond market fluctuations in the US could lead to lower mortgage rates in Canada, but it's crucial to remember that the two countries have different banking structures.
🤔5. Where the Market Goes From Here
The supply-driven market would need around 250 listings available to slow down, but this week saw a pullback in total listings. With homeowners experiencing less equity and real estate investors not keen on selling, the number of listings and sales may hit record lows this year. This could help keep prices strong, suggesting that we may have already hit the bottom in house prices. As always, only buy if you're comfortable with the payments, but it seems buyers are adapting to the current rates as the new normal.
That's it for this week's market insights. Next week, I'll share more personal thoughts after wrapping up our family ski trip and returning to the office. Talk to you then!
Selling Your Home?
Get your home's value - our custom reports include accurate and up to date information.
Get Home Value